Accent Global System Architects, Inc.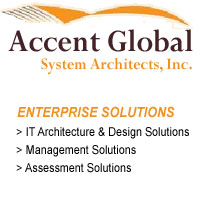 Accent Global System Architects, Inc.
Donna James
8201 Corporate Drive, Landover, Maryland 20785
Ph: (301) 933-9735
Accent Global has been providing Information Technology architecture services to government agencies since 2004. Analogous to the building industry, our IT architects are highly trained professionals with a strong background in business analysis. They minimize the risks involved in system upgrades and/or implementations through thorough analysis and planning.

The architect designs based on how your organization functions. He or she examines your business processes and observes how individuals in your organization do their jobs. The architect can then present you with a plan/blueprint that integrates your business with the technology that supports it.

Core services provided by Accent Global include: Enterprise Analysis, Enterprise Architecture, Strategic Planning, IT Governance, CPIC, Organizational Studies and Assessments.