Flaming Phoenix MD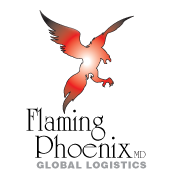 Flaming Phoenix MD
Deb disney
Southaven, MS
Ph: (813) 671-0190
About Flaming Phoenix MD:
Flaming Phoenix MD (FPMD) is the leading Global Logistic Company providing world class project management and logistical rigging. FPMD has over nine years of experience working with companies such as: Siemens, Lockheed Martin, SAIC, Boeing, and Department of Homeland Security (DHS). Our success is derived from our structured proactive approach, handpicked project management, and specialized rigging operations to insure a confident movement and quick turnaround. We are devoted to aggressively managing our projects with keeping your time schedule in mind. FPMD stands out as we consistently exceed the expectations of all of our clients on every project, every time.
Why are we different?
FPMD has a strong understanding of the challenges and where the opportunities lie in this rapidly changing industry. We utilize our ability to create tailored solutions to enhance the customer expectations. Our priority is to employ highly skilled Project Managers for each and every project. FPMD has a proven track record that promotes high standards and professionalism. FPMD uses the most advanced project management techniques available in the industry and team to produce effective, consistent, and measurable long-term results for each project we undertake. We offer experience, leadership, integrity, and dedication to excellence with each project.
Our Value Proposition:
FPMD understands that no two agencies are alike. We believe that paying close attention to every detail is the key to a successful project. Our use of the best practices available along with our experience allows us to provide the best Logistical Support and Project Management Services in the industry. We offer tailored, time tested, and practical solutions for real world issues. We take extreme pride in our competence and sensitivity to the differences of all Government Agencies and their mission.



Company News



During a recent trip to Washington DC, our CEO Debra Disney, had a chance to sit down with Senator Roger Wicker to discuss the HR-4203 bill. HR 4203 – "Women's Procurement Program Improvement Act of 2012" is aimed to amend the Small Business Act with respect to the procurement program for women-owned small business concerns to help dissolve the cap applied to contracts for small businesses. The Women's Procurement Program Act of 2012 which provides much needed refinement of the restricted competition program that will make it more impactful and easier for Contracting Officers to use address concerns and utilizing